While installing the screen saver is as easy as installing any other program you download from the 'net, installing the text client is a little more complicated.
Installing the Screen Saver client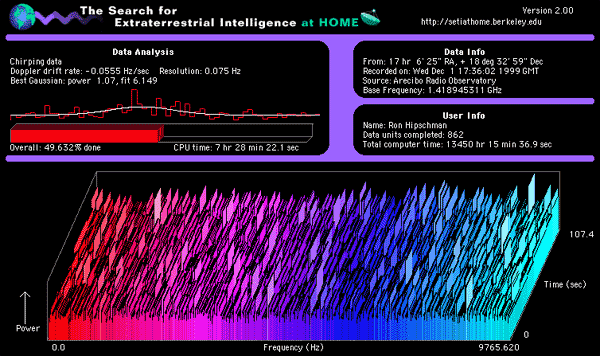 Installing the screen saver is quite easy. Double click the file you downloaded from the SETI@home site, and follow the directions on the screen.
The first time you run it, you'll be asked to log in.

If you are not connected to the Internet, connect now.
Enter your name and e-mail. your e-mail will be used to identify you when you want to retrieve your personal statistics.
After log in, the client will start downloading the first Work Unit. When it is done, you can disconnect from the Internet.
TIP: drawing the graphics takes up to 40% of the CPU time. To shorten the processing time significantly, disable the graphics by right-clicking on your desktop → Properties → Screen Saver → Settings... button. there, check the Go to blank screen after [] minutes check box, and enter a value of up to 5 minutes. it's best to enter 0. While you're there, make sure your screen saver is set to Seti@home.
Installing the text-based client (MS-Win)
The text based client download usually consists of only the client running file, so all you have to do is create a new directory and copy the file to it. double click on it to start it.
The text client runs in a DOS window (in Windows machines) that can be minimized to the task bar. It is possible to use one of the third party programs specially designed for the SETI@home client, that can hide the window and the task bar icon, so it doesn't interfere with the usuall work. These programs can usally run the client when they are started. Some of these programs can also show variouse information on your current and/or past Work Units, just like the graphic client, without using exsesive CPU time. Links to some of these programs' home pages can be found in the Links section, or the SETI@home site's Related Web Sites page. Windows 95 users: If you use a dial-up connection to the Internet, you'll need to upgrade your winsock software to WinSock2 from Microsoft.